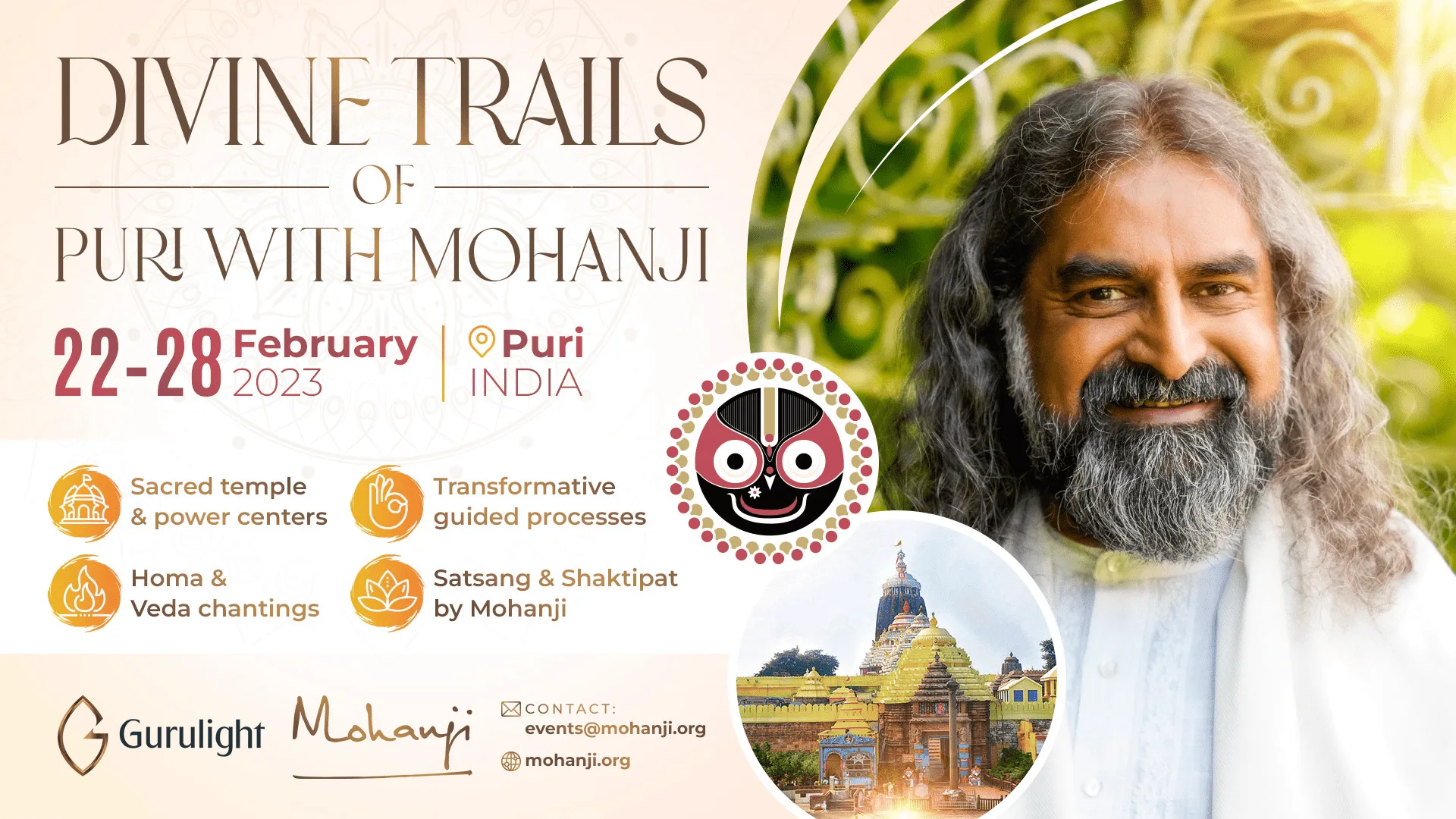 DIVINE TRAILS OF PURI WITH MOHANJI
Puri, also known as "Jagannath Puri", is one of the four abodes of Lord Vishnu and one of the most sacred places in the Sanatana Dharma tradition. Puri has also been home to various Masters, many of whom have attained mahasamadhi here – Chaitanya Mahaprabhu (the most famous 15th-century saint and an ecstatic devotee of Krishna), Yukteshwar Giri (guru of Paramahansa Yogananda) and Totapuri Maharaj (guru of Sri Ramakrishna Paramahamsa).
This magical combination brings satisfaction to both religious and spiritual seekers, making this sacred place the ultimate destination . This program is special as it is a combination of pilgrimage, a transformational retreat with Mohanji and also the celebration event for Mohanji's Birthday. This suffices to say that this program would enable you to go deep within and feel the divinity in and around Puri.
Completion is what everyone living on earth strives for and when it comes to fruition of pilgrimage in India, it could be achieved only after paying a visit to the holy city of Puri, located in the state of Odisha. Hence, this pilgrimage with Mohanji becomes special and significant as we begin to walk the path of pathless under the guidance of Mohanji.

This Pilgrimage includes visits to:
The world famous Shree Jagannatha temple
Other sacred and ancient temples, pilgrimage locations in and around Puri.
Various powerful ashrams/samadhis of Masters
Ancient Konark Sun Temple, one of the seven wonders
Shanti Stupa – Dhauli Giri – the place that brought the transformation of Emperor Ashoka
Mohanji's Birthday Celebrations
Join us on this special occasion as we celebrate Mohanji's Birthday in his presence at Puri. The day is loaded with celebrations that includes:
Homa and Veda Chanting
Cultural program by Himalayan Academy of Tradition
Congregation of high priests, spiritual leaders and dignitaries
Satsang with Mohanji with a sankalp (intention) of spreading Sanatana Dharma in the world for the upliftment of humanity.
Transformational Retreat with Mohanji
A retreat is an opportunity to step away from everyday life and focus on yourself and your connection to your spirituality, no matter what form that takes shape in your life. You don't have to be well-versed in a spiritual or religious practice, or even subscribe to a particular faith tradition to take part. All you need is the willingness to recenter your thoughts to get you going on the path that's most right and most rewarding for you.

Retreats with Mohanji helps you achieving the same through the following:
Conscious Walking along the golden sands of Puri Beach
Meditations at various sacred & powerful locations
Everyday satsang with Mohanji
Powerful spiritual techniques given by Mohanji
Conscious Dancing
Shaktipat from Mohanji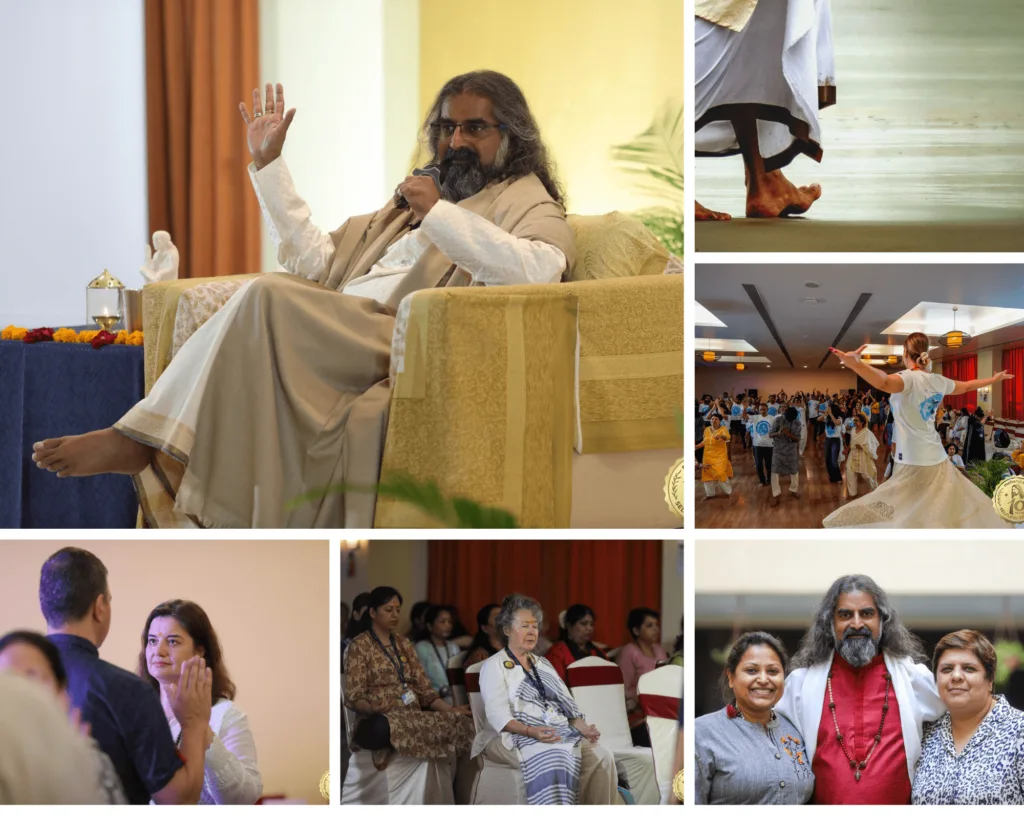 Date

Program Description

Price (INR)

22nd Feb until 28th Feb 2023

INR 90,000.00 USD 1125.00 (approx) EUR 1060.00 (approx)

22nd Feb until 26th Feb 2023

INR 72,000.00 USD 900.00 (approx) EUR 850.00 (approx)

Online/Livestream Programs

INR 9990.00 USD 125.00 (approx.) EUR 120.00 (approx.)

1-day program (livestream)

INR 9990.00 USD 125.00 (approx.) EUR 120.00 (approx.)

23rd Feb 2023 and 27th Feb 2023

INR 14,990.00 USD 190.00 (approx.) EUR 180.00 (approx.)
ADDITIONAL DISCOUNTS
We are offering special discount for families. For more details, contact us at events@mohanji.org
Date

Program

Activities

Puri Pilgrimage retreat participants - Check-in

Flag hoisting in Shree Mandir

Mohanji's Birthday Celebrations, Cultural Program & Satsang

Visit to Jagannatha Temple

Homa (Fire Ceremony) and Veda Chanting

Cultural Program, Book Launches

Public Satsang with spiritual leaders & Dignitaries

Puri Tirtha & temples to Visit

Conscious Walking on the beach

Puri Pancha Tirtha & temples in and around Puri

Shankaracharya Math / Gambhira Math visit

Visit to Jaganath temple (Kirtan, Chanting)

Conscious Walking on the beach

Totapuri Ashram (Meditation)

Tota Gopinath Mandir - Kirtan, Bhajan

Yukteshwar samadhi & meditate/relax on the beach

Visit to Jaganath temple (Optional)

Excursion to Dhauli & Konark

Trip to Dhauli Giri (Shanti Stupa)

Beleshwara Temple & beach / Pragyananda (Balighai) Ashram

Trip to Konark Sun Temple

Conscious Walking on the beach

All day spiritual activities including Satsang and Shaktipat from Mohanji

Visit to Jaganath temple (Optional)

Check Out & Travel back, Visit to KISS, Bhubaneswar (Optional)

Conscious Walking on the beach

Check out & Travel to Bhubaneswar

Visit to Kalinga Institute of Social Science & Mohanji's address (Optional)

Departure to Airport / Railway station
Important note for foreigners/non-indian origin nationals
Please note that Non-hindus & non-Indian origin people are not allowed to enter the Shree Jagannatha Temple and some of the other temples in Puri. So anyone who is unable to enter Shree Jagannatha temple, we have been assured by Pattajoshi ji (The head priest) that he will organize a special event at a different location for all our foreign guests to experience Shree Jagannatham outside the temple.
The nearest airport to Puri is Bhubaneswar (Biju Patnaik International Airport), Odisha . Puri is about 1 hour by taxi from the airport.
People traveling by train, you can get down at Bhubaneswar or Puri (if train is available).
Participants are required to book their Air tickets/Train Tickets on their own
Airport pick-up & drop offs can be arranged on request.