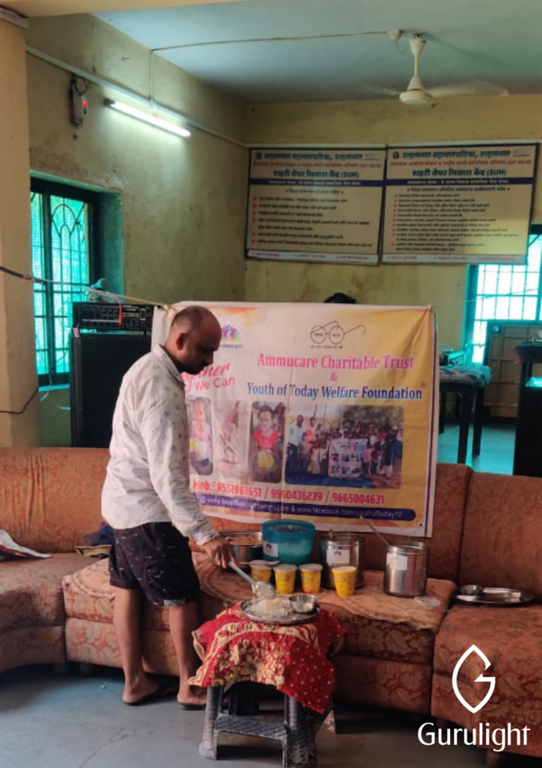 Pitru Paksha 2021 – Annadaan (Food Donation) Complete Update
Our deepest and heartfelt gratitude to all our supporters and volunteers who managed the rituals selflessly and provided the oversight and monitoring on the ground to ensure that the rituals are conducted with sanctity.
Over the sixteen days, we arranged for meals for around forty thousand beings across India. It varied from 3 meals a day at Rishikesh, Haridwar to two meals a day in Varanasi to a single but wholesome square meal in Shirdi, Sri Sailam, Gangapur, Tiruvannamalai, various locations in Mumbai (Dadar, Mahim, Ambernath, Badlapur and Ganeshpuri), Jammu (Kali Mata temple and Channi Himmat), Gauri Kund and Katra.
Our volunteers reached out to many – leprosy patients and their children, sewage and street workers, migrant labourers, slum dwelling families to transgender communities, homeless people on the streets and pilgrims / sadhus at various spiritual power centres. Our enthusiastic volunteers even trekked deep into the Nalla Malla forest ranges to reach out to forty tribal families residing near the Ishta Kamteshwari temple.
In keeping with Mohanji's philosophy of compassion beyond species, the feeding encompassed all – renunciates, needy/old/sick people, cows, dogs, monkeys, fishes, birds, etc. Our volunteers served animals at various animal shelters at Sanjay Gandhi Animal Centre, Delhi, Welfare for Animals (WAG) in Goa, Gaushala in Jammu, Badlapur, Mumbai Kabutarkhana as well locations frequented by these beings. Our goal was to serve the beings of the land, beings of the air, beings of the water in addition to human beings. This is a blessing for most of these beings who struggle to get even one proper meal a day.
The food served at many of these locations was part of Ammucare's Livelihood Project which provides livelihood to many underprivileged people who prepare the food for the annadaan (food distribution). Hence, your donations not only helped feed the beings but also support many families involved in the food distribution.
Our deepest and heartfelt gratitude to all our supporters and volunteers who are managing the food distribution selflessly and allowing us to keep our costs minimal and ensure that all our funds are disbursed to those that need them most. Their joy of serving these beings across species is incomparable.
We thank our participants for their support and consideration and for giving us the opportunity to perform this service on their behalf for their dear departed ones and their ancestors. We sincerely pray and hope that this helps their ancestors in their salvation, lightens their lineage and also helps the participants, their families and their future generations.